Our Team of Professional Yoga Teachers
Kamal Yoga School Rishikesh, India
Yogacharya Mohan Ji (Hatha Yoga Practice)
Born in a Vedic family, Yogacharya Mohan Panwar began the path of yoga at the age of 15. He completed his P.G.D.Y from H.N B. Garhwal University and his M.Sc. in yoga from Uttrakhand Open University. He is the master of Hatha Yoga with 7 years of teaching experience all over India.
His deep understanding of body alignment and asana makes him an excellent teacher in giving basic comprehension of the human body.
Yogacharya Mohan's classes are an amalgamation of professionalism, competence, strictness with considerate softness and a good sense of humor, which makes his classes extremely effective and enthusiastically balanced. He is a passionate teacher with a zeal to discover something new in each and every student…. He is a motivating master, a professional teacher, and an incredibly awesome person by heart.
Yogi Tara Ji (Asana Alignment and Adjustment)
Yogi Tara has been practicing yoga since his childhood and has studied Raja, Hatha, Ashtanga, and Vinyasa Yoga.
His formal university education began with studying Sanskrit in which he obtained both a Bachelor's and Master's degrees at the Sanskrit University Haridwar. He went on to further his education and follow his true calling by also completing a Masters in Yogic Science and Vedic Philosophy at the same university.
Tara Ji's passion for teaching began early on in life when he started to give Asana classes at Yoga-Music Culture Center. This budding passion blossomed and grew as did his knowledge and personal experience. Then he started traveling around the world to explore his knowledge and experience.
Tara Ji has been teaching since 2009 & giving Yoga Trainings & Workshops at many different Yoga Schools around the World. He now teaches classes specializing in Hatha, Ashtanga, Vinyasa, Yoga Therapy, Yoga Alignment, Philosophy, and Sanskrit mantra chanting.
In his teaching career, he hopes to bring to his students a deeper understanding of the true meaning of Yoga by bringing together Physical Practice, Theory as well as his personal experience.
Tara Ji defines his success as being those moments in which imparting his knowledge and interacting with his students brings about a transformational change in their lives. He lives to spread peace, love, happiness, and health to all.
Dr. Usha Vaishnava (Ayurveda Doctor)
Having studied Ayurveda & Herbal Medicine at the famous 150-year-old Gurukul Kangri in Kanpur (renamed Kanpur University in 1966), Dr. Usha completed her internationally recognized Bachelor of Ayurvedic Medicine and Surgery (B.A.M.S.) in 1997. Her competence is evident in her extensive and varied experience during the past 17 years, has shared her expertise as a lecturer of Kaya Chikitsa at Himalaya Ayurvedic College (Bareilly, U.P.), as a trainee physician in Arya Vaidya Sala (Kottakkal, Kerala) and Panchkarma specialist at Bhole Baba Ayurvedic Hospital & Research Center (Ranikhet, Uttarakhand). She is currently a chief consultant and manager of the Ayurveda Nirvana clinic in Rishikesh, providing such services as detailed consultations, Prakriti analysis, basic to advanced level Ayurveda courses, Panchakarma treatments and is a respected instructor of Ayurveda in our Yoga Teacher Training Programs.
Joshita  (Yoga Nidra / Meditation)
Since Joshita was a child, the word Meditation always intrigued her. The roots and foundation given by her mother, she started to practice Yoga and Meditation at a very young age.
Joshita began to learn in depth knowledge of Hatha Yoga at The Sivananda Yoga Vedanta Centre in Delhi in 2013. After finding its profound benefits with the daily practice of Asanas, Pranayama, Meditation and Karma Yoga, it completely changed her perspective of the body, mind, energy and spirituality. She then completed the Teacher Training Course with The International Sivananda Yoga Vedanta Centre at Dhanwantari Ashram in Neyyar Dam, Kerala.
The call for sharing this knowledge was so deep in her that she started to teach Hatha Yoga, Pranayama and Meditation at their centre in New Delhi.
Her curiosity to explore different aspects of Yoga led her to Rishikesh and Asian Countries where she studied and still continues to learn by intensively participating in different forms of Yoga, workshops and courses.
She is a certified Yoga Nidra Facilitator and also offers Yoga Nidra workshops. Joshita has been teaching Yoga and Meditation (theory with practice) at Nada Yoga School in Rishikesh, India.
She loves to bring enthusiasm and dynamism to her classes and finds teaching Yoga and Meditation the most fulfilling path as it helps her to know herself in so man
Swami Atmananda Giri (Yoga Philosophy / Meditation)
Swami Atma Jnanananda Giri is a Homeopathic doctor from Kerala, residing in Rishikesh since 11 years. He learned yoga meditation from Swami Rama Sadhaka Grama ashram, Vedanta (knowledge of Indian Philosophy) from Dayananda ashram, and is currently leading students on the path of yoga and meditation. He offers insightful lectures on these topics as well as philosophy, and draws his inspiration of enlightenment practices from the Mandukya Upanishad. The students are guided to a state of relaxation through Yoga Nidra and are taught exercises to optimize the functioning of joints and glands and purification of the nadis, to help the prana flow throughout the body. The Bhagavad Gita is presented as a scripture beyond religion and its relationship to yoga is explored. Learners are brought to an understanding of yoga as a way of life and a means of achieving balance within themselves in a stressful and fast-paced existence, rather than exclusively as physical exercise.
Yogi Prakash (Asana Practice / Asana Alignment)
Yogi Prakash is a young, energetic yoga instructor specializing in Hatha Yoga and alignment. He has been living with holy and saintly people since his childhood. He was brought up in a place where spirituality is the home atmosphere, and the science of yoga comes naturally to him. From a very young age, he started gaining training on the basics of Yoga science. His teaching is based on theory, discussion, and demonstration. He has been teaching at Rishikesh since 2015.
Yogi Kamal Ji (Asana Adjustment / Hatha Yoga)
Yogi Kamal Ji was born in a family with deep knowledge of Sanskrit and ancient texts, so the study of Vedic and other ancient texts was part of his yogic education since childhood. Further, you will learn about his achievements in Yoga study. He did 2-year training course in naturopathy at National Institute of Naturopathy (Department of Ayush Ministry of Health and Family Welfare, Government of India) in 2006. He obtained bachelor's degree in Physical Education (B.P.Ed.) from Barkatullah University, Bhopal in the year 2007. He attained a Master of Science in Yoga from Uttarakhand Sanskrit University in Haridwar in 2010. In 2002, Kamal participated in all-India Inter-university Yogasana Championship held at North Gujarat University, Patan. In 2008, he co-founded International Free Yoga and Music Festival which lasted till 2014. He is a professional teacher of ancient hatha yoga, and shatkarma section. His compassion towards all living beings and non-fading cheerfulness combined with routine yoga practice make him one of a kind, true yogi.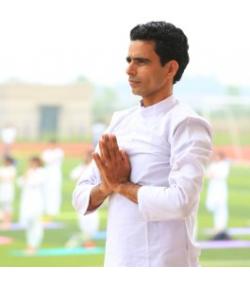 Buddhi Prakash Ji (Meditation & Philosophy Teacher)
Guru Buddhi Prakash Ji was born in the year 1953. He is an M.A. degree holder in Hindi Literature and Yoga Philosophy. He got the first experience of Samadhi at the age of 7 years. He had a clear vision of his past life in the Himalayas. He completed his higher education from Agra and Haridwar Universities. He got initiation in Shankaracharya Tradition through his Master Maharishi Mahesh Yogi and he spent many years with his guru and practiced the Transcendental Meditation. For deep practice he went to a cave in the Uttarkashi Himalayas for a few years. He taught Yoga in many other countries and now he is guest teacher at Om Shanti Om Yoga Ashram. He has 40 years teaching experience of Yoga and many spiritual seekers come to him for different level of practicing Meditation and Indian Philosophy. He has such an extensive knowledge of Indian Philosophy like Patanjali Yoga Sutra, Shiv Sutras, etc. He has been known to conduct various Yoga seminars in Rishikesh as well as other parts of India. In the year 2015 he is awarded by Yash Bharti Award by Chief Minister of UP Government.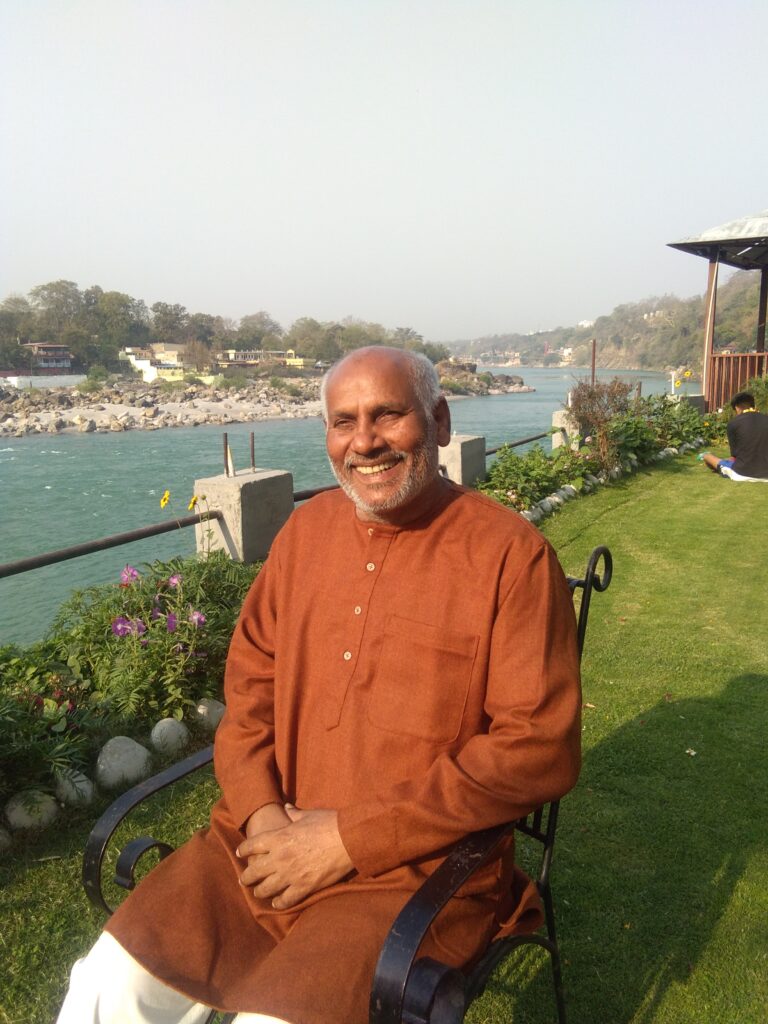 Kamal Yoga School is a Yoga Alliance certified yoga school located in Rishikesh, India, offering 100-hour, 200-hour, 300-hour, and 500-hour yoga teacher training programs. These programs cover traditional Hatha and Ashtanga yoga styles, as well as meditation, pranayama, and yoga philosophy. The school provides accommodation and meals for students, and graduates receive internationally recognized yoga teacher certifications.
Kamal Yoga School
Near Ram Jhula Bridge, Rishikesh, Uttarakhand (India)
Pin – 249204
Call / Whatsapp
+91-9720226015
E-Mail
kamalyoga55@gmail.com